Peterborough Utd Install Turnstile Monitoring System
Comments Off on Peterborough Utd Install Turnstile Monitoring System
---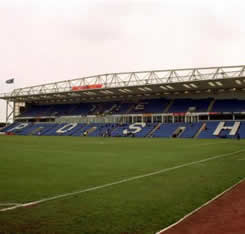 In July 2008 Peterborough Utd FC were exploring the possibilities to improve the turnstile monitoring and CCTV systems at London Road Stadium. Having compared numerous options, the decision was made by the management team including CEO Bob Symns, to install a bespoke Tensor turnstile monitoring system and for CCTV Surveillance to maintain the existing CCTV system.
Peterborough Utd FC chose the custom designed Tensor turnstile monitoring system as it was the only solution that fully fitted the brief and they  "already knew the staff and they offered us a good working relationship".
Office Manager, Mary Faxton said the main advantages of Tensor over its competitors were "Service and Price". Mary was particularly impressed that the turnstile monitoring system "offered much more information than our old system".
The Turnstile System monitors the flow rate of fans around London Road Stadium, providing accurate and up to date reports on stadium activity and capacity. The CCTV Surveillance reporter asked Mary what she liked most about the Turnstile system "the new Turnstile Computer system is very accurate and easy to use" she said.
The CCTV system monitors both internal and external crowd activity reporting directly to the police/safety control centre. This enables Peterborough Utd to accurately manage the safety and security of both the fans and the ground.
After the system was installed, the safety officer and general managers were trained on how to use the CCTV and Turnstile systems and the associated PC software. "Informative and Exceptional" were how Peterborough Utd staff evaluated the quality of the training.
Peterborough Utd have used the Tensor Operations Department a couple of times, both in installation and maintenance, describing their work as "excellent".
When Mary was asked if she would recommend Tensor and CCTV Surveillance to other companies? "Yes" was the reply. She then summed up by saying "the CCTV system, Turnstile monitoring system and services provided by CCTV Surveillance and Tensor are all excellent".
---
Peterborough United Football Club was formed in 1934 and first achieved promotion to the Football League in 1960. Currently they play in The Championship holding home matches at London Road Stadium which holds 15,460 and was built in 1913, although the original ground bears little resemblance to the one seen today.
Peterborough United Football Club
London Road Stadium
London Road
Peterborough
---